It is getting easier to share articles with students and colleagues, but there are a few things you need to know to make things go smoothly. The key is to look for Permalinks in EBSCO databases  and Document URLs in ProQuest.
EBSCO Databases
Below is how to find permalinks in EBSCO:
Click the title of the article
Find the Permalink icon on the bottom right of the article's record (and click it)
Copy and paste the Permalink in a document you'd like to share.
---
---
ProQuest
Here's how to find the same type of link in ProQuest, which is called a Document URL:
Search for the Abstract/Details link in the brief view of this item, or click the item's title.
Make sure you are on the Abstract/Details tab and scroll down.
Copy and paste the Document URL into your document (e.g., Canvas) so you can share with students and colleagues.
---
---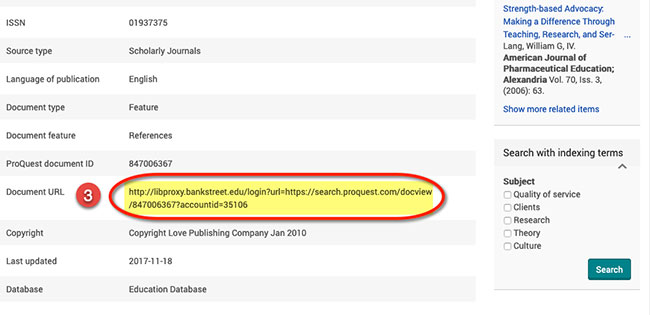 Have you got the correct link?
Your link should have this bankstreet.idm.oclc.org in the link you share with other, e.g., https://bankstreet.idm.oclc.org/login?url=
if your link looks different, come and see us at the reference desk and we will do our best to help you.